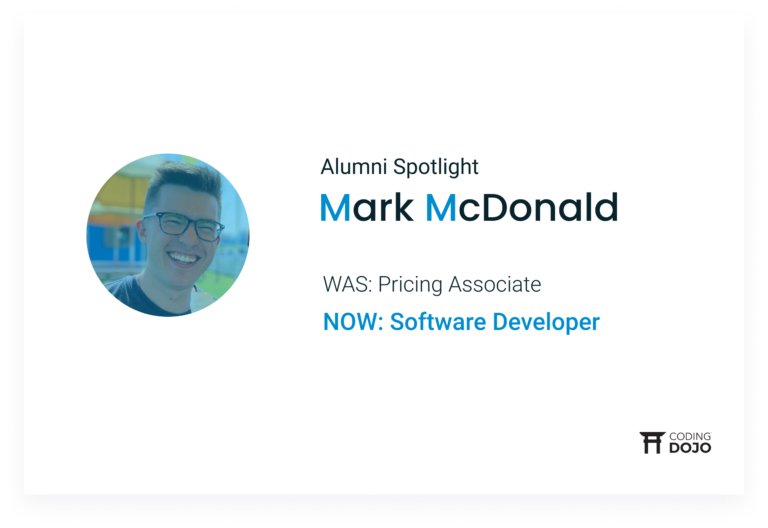 Pre-dojo

:
Worked in higher education and as a barista

Was not satisfied and tired of shoe work with low skill and low wages

Wanted a career protected by a future and protected by a recession
After Dojo:
Works as a software developer

Has new confidence in his ability to learn

Dreaming of growing into a leading key position in the coming years
program

:

Part-time online bootcamp
Certificate of Appreciation:
I chose Coding Dojo mainly because it came recommended from a family member. This person has been in the software development industry for decades, and knows exactly what it takes to be successful in this industry. He mentioned some friends who were in a similar position to mine a few years ago who used Coding Dojo and now work at Microsoft and Amazon. I also appreciated the transparency of CD placement data and extensive career services.
Tell us a little about yourself. Age, hobbies, passions and what did you do (professionally) before the bootcamp?
I'm 27. I love to cook, read, play video games, hang out with my dog, bake, and because I'm a masochist, I love sports in Atlanta.
Before bootcamp, I jumped into a lot of different jobs – I actually went to music education school, but after teaching for about half a year I realized that teaching in a traditional classroom is not a career for me. I worked in higher education for about two years until I lost my job due to the epidemic, which led me to work as a barista for a few months until I started engaging in full-time programming.
Beyond the desire to learn code, why did you decide to sign up for a coding bootcamp?
All of the above. I was miserable and tired of being low-wage, unskilled (in the absence of a better term, do not throw a shadow here) with poor benefits and lousy hours. I wanted a recession-free career that I could use to find work anywhere, and I knew that if I could break into the world of programming, I could write my own card. In addition, I have always been interested in computers and technology in general; I built my own computer several years ago and even took some online IT courses through Google.
What fears or doubts "delayed you" from signing up? How did you overcome them?
Honestly, the main thing was the money. I was afraid I would spend months and thousands of dollars on something that would not help get me a job. I just had to trust God that was what I was supposed to do. I have also extensively researched various online programs, making sure that all those I have considered have very transparent location data available, as well as extensive career placement assistance. These factors all helped alleviate my anxiety about committing to bootcamp.
What signed the deal on Coding Dojo? Why did you choose us over other programs?
I chose Coding Dojo mainly because it came recommended from a family member. This person has been in the software development industry for decades, and knows exactly what it takes to be successful in this industry. He mentioned some friends who were in a similar position to mine a few years ago who used Coding Dojo and now work at Microsoft and Amazon. I also appreciated the transparency of Coding Dojo's job placement data and extensive career services.
What was it like to prepare for bootcamp? Were you nervous, excited, etc.? How did you prepare?
I was pretty nervous, but also excited to take some official steps forward in my coding education. I prepared myself for taking some basic HTML and CSS courses through Codecademy so that I would not be completely lost with the opening of Web Fundamentals. I also slowed down my learning a bit compared to what I did before signing up for bootcamp – knowing I was about to start four months of 30+ hours a week of coding, I wanted to take a break while I could before things went crazy.
Tell us about your first few weeks in the program. What were the parts you liked? Parts you struggle with?
The first few weeks were pretty busy – I didn't have to attend lectures or do assignments for a few years, so going back to the pace of formal learning was something I had to adjust to. I enjoyed being able to get live feedback on what I coded. In the past, I had to scan through StackOverflow or Reddit hoping my problem would be resolved so having a live guide with extensive knowledge was extremely helpful.
How did you overcome the obstacles or struggles you faced?
Luckily, I had the full support of my amazing wife, who helped me keep my nose to the grindstone and push forward. Knowing that I was finishing this program for her just like for me helped me stay focused when I was discouraged or frustrated.
Do you have any fun anecdotes to share about your time at bootcamp? Meet good friends? Pleasant memories?
During my python course, I was on Will Calhoun's group. If you do not know Will, he likes to teach about variable names using a specific mythical creature – the unicorn. To get past the notion that variable names can be anything (although they should not be just anything, of course), Will was there for the variable and reminds us, "Now remember, that name is arbitrary, it does not matter, it can be unicorn." This led us to joke about the names of all sorts of things in the name of the unicorn, and we eventually incorporated the coordinates of a unicorn inflatable island in the Philippines into the event app we prepared. Once Will figured out exactly where we located this event, we all laughed well.
As your graduation date approached, how did you feel about your skills and job prospects?
I certainly felt more confident than I had before the bootcamp, but the impostor syndrome is too real to ignore. There's an idea that the more you learn, the more you realize you still have to learn … it's such a true concept. I knew I had gained a lot of great skills through bootcamp, but I also knew how far I still had to go in the field of web development. I knew I would get a job eventually, but to be honest I wasn't sure how long it would take for someone to take a risk on me.
How was the job search conducted? Where did you get a job?
It went a million times better than I expected. According to placement data, most students find their first appearance between 4-6 months after graduation. However, thanks to an old friend from the college, I was able to get to my first interview at the company two days before I even officially graduated! After that, it was a whirlwind of interviews, preparation, and coding challenges – and I was lucky enough to be offered a job as a Software Developer I at Rally Bandwidth, North Carolina.

Beyond the coding expertise, did the bootcamp give you anything else?
The main thing besides experience in coding was self confidence, since I can develop web applications and I can write code. As for soft skills, while Coding Dojo did a good job of impressing the importance of having strong soft skills, I was fortunate to be able to develop the soft skills through my various other professional roles over the years.
What advice do you have for others who are interested in coding bootcamps or are just starting one?
If you have not yet started it, make sure you do your research. There are all sorts of different programs out there, and they have not been created equal. Make sure you find one that is very transparent about the services they provide, how fast / many of their graduates are placed IN-FIELD, etc. Also, do not just assume that the bootcamp will spoon feed you everything you need. Land a good job. You need to be stubborn, willing to take the initiative, and put in the effort needed to start a new career like this. You take out of the program what you put into it, so you can equally give it your best.
What are your goals / dreams for the future, say in 5 or 10 years from today?
In five years, I hope to continue to grow as a software developer, and after that maybe even a lead team for the team sometime.
–
If you are interested in learning how to code and upgrade your career, Coding Dojo bootcamp offers accelerated learning programs that can change your life. We offer both Part time and Full time Online courses as well instead of Programs (after COVID-19). We also offer funding options, scholarships and other tuition assistance programs to help you with financial barriers.
If you want to invest in yourself and your future, there is no better time than the present! If you are interested, use This link Schedule a 15-minute inquiry meeting with one of our reception representatives today.