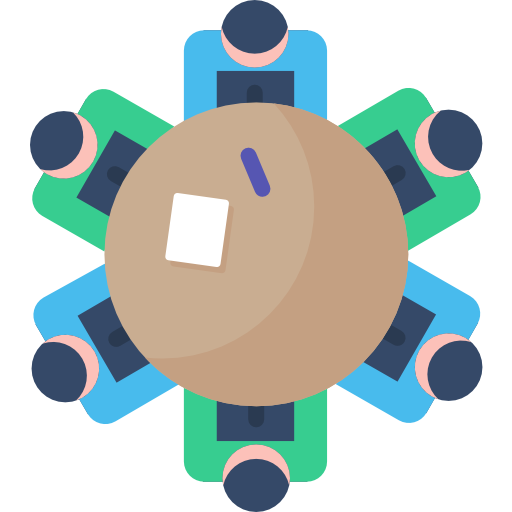 Some of the cool ideas for informal business meetings, trainings, or knowledge sharing sessions, which are effective:-
Brown Bag Meeting
A "Brown Bag Meeting" or "Brown Bag Session" refers to an informal meeting, session, training, or presentation usually held in a workplace where attendees bring their own food.
As the name "Brown Bag" suggests, it refers to the plan brown paper sack in which many people bring their breakfast, lunch, or evening snack to work. For the same reason it can happen at breakfast, lunch, or snack hour, whichever works best for everyone. Lunch hours are more popular as sessions can last an hour or longer.
Generally these sessions are optional for participants to attend.
Lunch & Learn
A "Lunch & Learn" sessions are also quite popular where a learning session usually happens over lunch. Each attendee brings their own lunch, or in some cases provided by the meeting host.
It works well from the office, hybrid, or work from home. Its a good way to engage staff for some lunch time talk.
Fishbowl Discussion
A Fishbowl method is suitable for discussion among large groups of 25 to 150 participants. This allows the entire group to participate in the discussion.
The seating arrangement of a fishbowl is circular consisting of an inner circle of speakers and an outer circle of listeners. Upto 5 participants can sit in the inner circle and join the discussion. Rest participants sit in the outer circle as audience.
Participants from the outer circle are free to come forward and become part of the inner circle at any time during the discussion if they wish to contribute. Participant can simply grab an empty chair or switch with anyone in the inner circle by raising their hand.
One or more chairs in the discussion group can be variable. For example, one variable chair means a participant can only be switched on one chair, other four inner circle participants are fixed.
Moderator should decide the maximum number of topics for discussion and maximum time per topic discussion round. Moderator can also be a fixed participant of inner circle.
Knowledge Bytes
A "Knowledge Bytes" or "Tech Bytes" refers to a byte-sized knowledge sharing session of shorter duration of 15 to 30 min. A session usually held multiple byte-sized talks from multiple speakers.
The other cool names for Knowledge Sharing sessions could be:-
Knowledge Cafe
Knowledge Forum
Gather Town
Gather Town is a multiverse platform for online meetings, sessions, or presentations
Unconference
An Unconference is a participant-driven meeting. The term "unconference" has been applied, or self-applied, to a wide range of gatherings that try to avoid hierarchical aspects of a conventional conference, such as sponsored presentations and top-down organization.
Coding Night
A "Coding Night" refers to a coding session after working hours at the workplace or online. Its an event where team comes together to solve a technical problem through individual contribution or pair programming, along with some beer and dinner 🙂