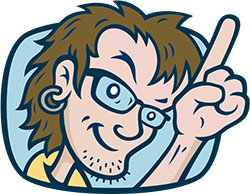 Whether you started with the old on_____ property or addEventListener, you know that events drive user experiences in modern JavaScript. If you've worked with events, you know that preventDefault() and stopPropagation() are frequently used to handle events. One thing you probably didn't know: there's a defaultPrevented proptery on events!
Consider the following block of code:

// Specific to a link
const link = document.querySelector('#my-link');
link.addEventListener('click', e => e.preventDefault());

// A larger document scope
document.addEventListener('click', documentClickHandler);
function documentClickHandler(event) 
    if (event.defaultPrevented) // Using the property
        // Do one thing if the click has been handled
    
    else 
        // Otherwise do something fresh
    


When preventDefault is called on a given event, the defaultPrevented property gets toggled to true. Due to event propagation, the event bubbles upward with this defaultPrevented value.
I've been handling events for two decades and didn't know this property existed until now. What's great about defaultPrevented is that it stays with the event without needing to track it globally!
Write Better JavaScript with Promises

You've probably heard the talk around the water cooler about how promises are the future. All of the cool kids are using them, but you don't see what makes them so special. Can't you just use a callback? What's the big deal? In this article, we'll…
Chris Coyier's Favorite CodePen Demos

David asked me if I'd be up for a guest post picking out some of my favorite pens from CodePen. A daunting task! There are so many! I managed to pick a few though that have blown me away over the past few months. If you…
Source