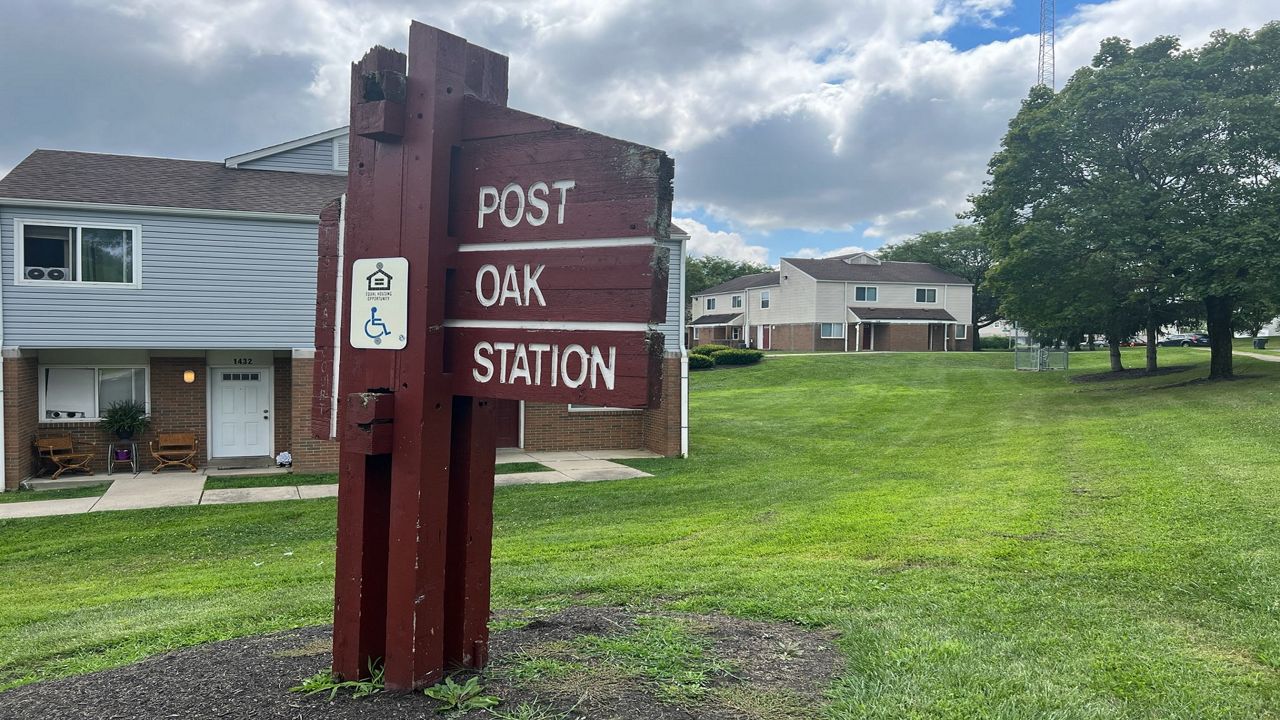 COLUMBUS, Ohio — Renovations are underway at Post Oak Station in Columbus.
---
What You Need To Know
CVS Health invested $18.9 million to renovate Post Oak Station
A new child care center is part of the investment
150 affordable housing units will be updated and built
Post Oak Station in Riverbend is a day care desert
The Columbus Metropolitan Housing Authority is partnering with CVS to lead the project
---
Because of an $18.9 million investment from CVS Health, their partners at the Columbus Metropolitan Housing Authority can renovate the 1971 Post Oak Station community to include new furnaces, air conditioning units, appliances and updates to the bathroom and kitchen.
The investment will rehabilitate 142 units and create eight new Americans with Disabilities Act-compliant units. CVS officials said a holistic approach to things like housing and health care play a key role in one's overall health.
"How healthy you are is really driven by zip code, not your genetic code or anything that happens within the four walls of an organization, so with that in mind, we across the board look for ways to really address these issues that drive health equity ," said Mike Avotins, the East Mid-America Market President at Aetna, a CVS Health Company.
The housing authority has doubled its housing portfolio in the last five years and owns more than 4,500 units of affordable housing. Since Intel announced a plan to come to central Ohio, CMHA estimated it will need to get 500 new affordable housing units per year to meet demand. The majority of the units in the CMHA portfolio are meant for renters making 80% of the area's median income or less.
While the housing authority offers voucher assistance for private landlords or apartments to accept, communities like Post Oak Station allow for them to serve more people in-house.
"By going this way and developing communities like post oak and building new ones like our Sinclair apartments project on the north side, this helps us be able to meet that need too and we don't have to ask anybody," said Sonja Nelson, the VP of Resident Initiatives for the Columbus Metropolitan Housing Authority. "We know what our mission is and we're building housing that meets that mission."
A child care center will also be built as part of the project. The Riverbend neighborhood is considered a day care desert, which qualifies as any census track with 50 or more children under the age of 5 with little to no child care provider options.
Action for Children reported one-in-six central Ohio child care providers had to close because of the pandemic and have not reopened.
"When you step back and look at residents in Riverbend and their access to child care, it is clearly an underserved community in that way and so it gives us an opportunity to not only create that platform but then to connect really critical services to the residents of Riverbend and Post Oak Station," said Avotins.
Neighbors are excited about the project. Nelson said that along with renovations, the investment will allow people to feel celebrated and resourced in their community.
"This project contributes to having safe, decent and affordable housing and again it's not just something to live in, because of their circumstances but designed in a way that people want to live in them," said Nelson.
The project, including the new child care center, is set to finish at the end of next year or the beginning of 2024. more information on the affordable housing may be found here.
.